Home
Talk

2
197pages on
this wiki
Welcome to the Frozen Wiki
Welcome to the Frozen Wiki, the online encyclopedia of the 2013 Disney animated film, Frozen. This wiki is made so that other Frozen fans can edit and contribute for the benefit of this wiki. So, explore the wiki and start editing! Before you start editing though, it is required to check the wiki Guidelines; they tell you what you can and cannot do on this wiki.
We have a number of 36 active users on this wiki. We have 197 articles as of November 28, 2014.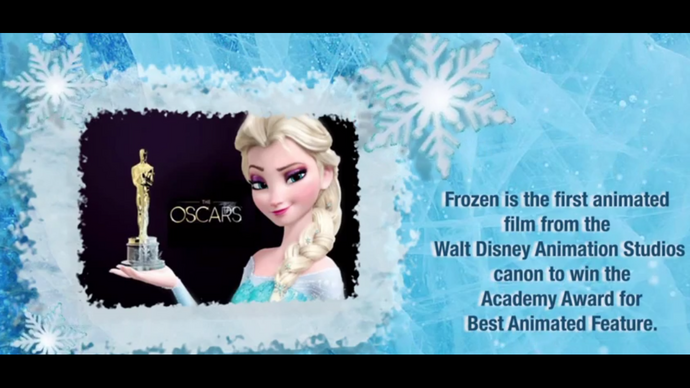 The critically acclaimed and widely popular Frozen has just surpassed Toy Story 3 as the highest grossing animated film of all time?
Frozen, as well as several other titles such as Wreck-It Ralph and Tangled, are currently available to purchase digitally on the brand new app, Disney Movies Anywhere?
Anna and Elsa, the stars of Frozen, will be moved from Epcot to the Magic Kingdom for meet-and-greets on April 20, 2014?
Frozen was released on Blu-ray and DVD on March 18, 2014?
Frozen earned a Golden Globe Award for "Best Animated Feature" and was nominated for "Best Original Song" for "Let It Go"?
Santino Fontana originally auditioned for Kristoff, but got the role of Hans?
Idina Menzel's audition tape for Tangled helped her win the role of Elsa?
You can see Rapunzel and Flynn from Tangled as Anna walks out of the gates?
They had a real reindeer come in so they could add detail to Sven, but instead used the behavior of one of the producer's dogs, Frankie?
That there is a hidden Mickey in Wandering Oaken's Trading Post and Sauna?
Rapunzel, Anna, and Elsa are thought to be cousins due to the uncanny similarities between their mothers?
Hans is named after Danish author Hans Christian Andersen, whose fairy tale, The Snow Queen, inspired the film?
Santino Fontana sang "I Feel Pretty" from West Side Story for his audition?
If you listen "Let It Go" backwards, it sounds like "Hold It In," the opposite of the song's intended meaning?
Idina Menzel and Jonathan Groff both played roles in Glee?
Frozen won two Oscars (Best Animated Feature and Best Original Song) at the 86th Academy Awards in March 2014?
The Frozen DVD has deleted scenes and special bonus features that were not seen before?
That Hans' last name is "Westerguard?"
Anna and Elsa's mother, the former queen of Arendelle, was voiced by Jennifer Lee, the co-director and writer of the movie?
March 31st, 2014, Frozen won the Kids Choice Awards for Best Animation Movie? The other nominations were Shrek, Despicable Me, and Tinkerbell.
That during the song "Let It Go", when Elsa was unraveling her bun into a braid, her braid goes right through her shoulder? This happened because if not done the braid would've fallen apart and not have been the perfect hair you see today.
Frozen will be getting an animated short sequel, entitled Frozen Fever?
Frozen will also be getting a book series called Anna and Elsa?
To add another Did You Know? fact above, click here to add one.
Featured Cast Member




"Idina Menzel" (born Idina Kim Mentzel, May 30, 1971) is an American actress, broadway actress and singer-songwriter. She played Nancy Tremaine in the 2007 Disney fantasy film Enchanted. She voiced Elsa the Snow Queen in the 2013 Disney animated film Frozen. Read more...

Featured Character




"Elsa the Snow Queen" is the main deuteragonist of the 2013 Disney animated film Frozen. She is voiced by Idina Menzel and will join the Disney Princess lineup, making her the 13th princess along with her sister Anna. Read more...

Featured Crew Member




"Jennifer Lee" (born 1971) is the co-director and one of the screenwriters for Disney's New Animated Movie, Frozen. She was also a screenwriter for Disney's Wreck-It Ralph. She wrote and co-directed (with Chris Buck) Disney's Animated Feature, Frozen. Lee is the first woman in the direction of a Disney feature film. It is also her first time directing a movie. Read more...

Featured Song




"Let It Go" ​is a song sung by Elsa (voiced by Idina Menzel) in Disney's 2013 animated film Frozen. A cover version by Demi Lovato was also released and is played during the end credits of the film. The song was sung in at least 25 different languages and was nominees at lots of awards for Best Original Song. It won an award at the Oscars Awards for Best Original Song. Read more...
Be sure to check out our affiliates!

Who is your favorite character from Frozen?
Enter Frozen.
Create blog post
Currently I felt ill,and I'm very busy.I'm so sorry,I'm really busy,you can massage me,and I can just minute give you a perfect answer,because The ART of Frozen book is very long page,and If you appear my edit wrong,you can change it,Please Arendell…

Read more >

Disney's Frozen Sing-Along Edition is now available on Digital HD for you to take anywhere when you sign up for Disney Movies Anywhere! Today also marks Walmart's VUDU service joining Disney Movies Anywhere (DMA) as a participating retailer, further…

Read more >
See more >
---
---
---