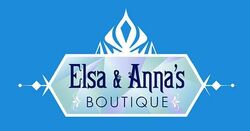 Anna & Elsa's Boutique (originally known as Elsa & Anna's Boutique) is a Disney Parks retail store in Downtown Disney at the Disneyland Resort, replacing Studio Disney 365. It was going to be opened in mid-September 2014,[1][2] but the date was later changed to October 6, 2014, along with the store name changed to "Anna & Elsa's Boutique".[3][4] The location includes products inspired by Anna, Elsa and Olaf.
Anna & Elsa's Boutique promptly drew a line of curious consumers on its first day of operation, although Disney management was reportedly attempting to gauge consumer response before considering similar stores at other Disney locations.[5]
References
Ad blocker interference detected!
Wikia is a free-to-use site that makes money from advertising. We have a modified experience for viewers using ad blockers

Wikia is not accessible if you've made further modifications. Remove the custom ad blocker rule(s) and the page will load as expected.